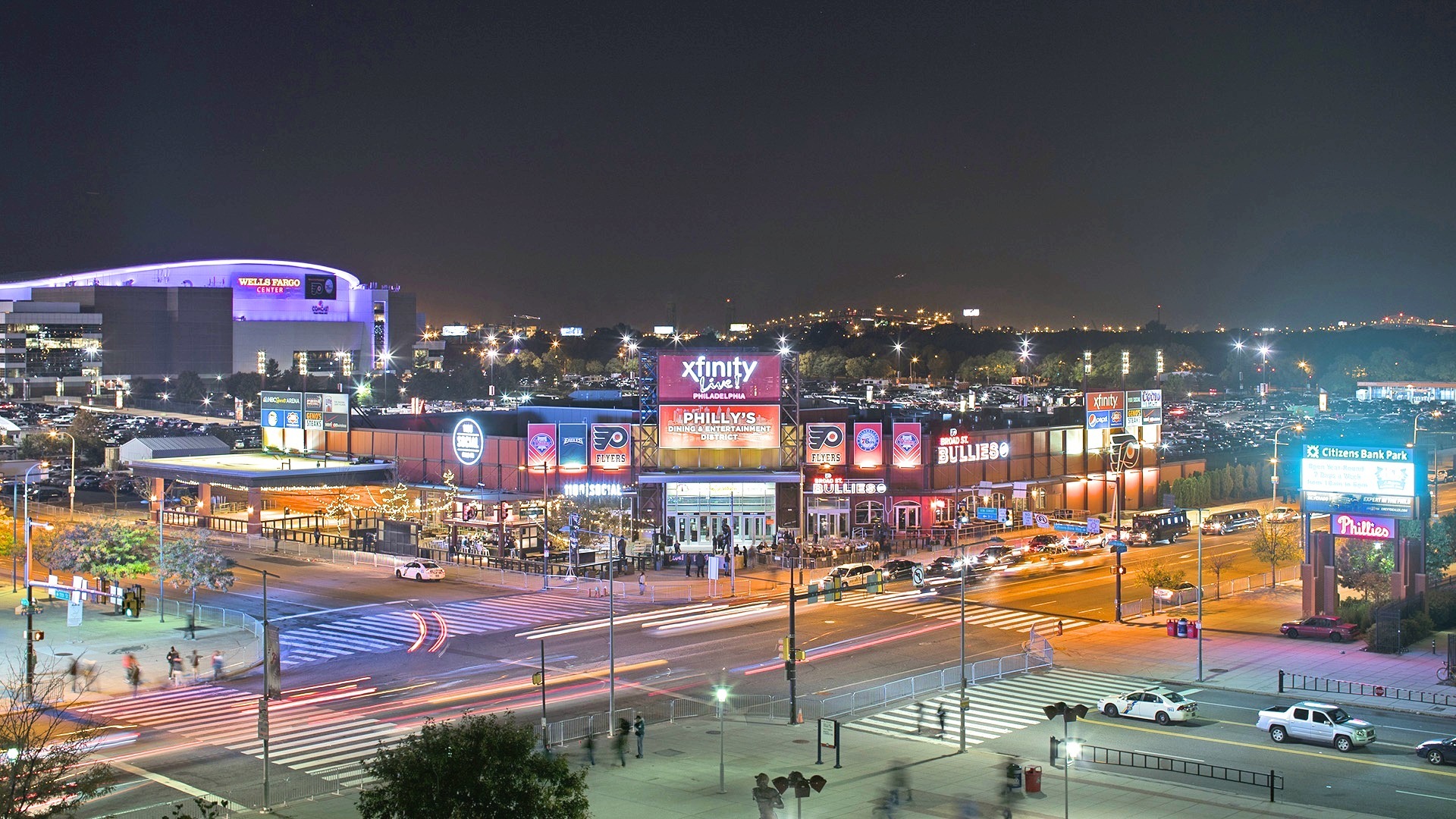 XFinity Live Entertainment Complex | The Cordish Companies
PHILADELPHIA – A lawsuit in which a woman claims to have been sexually assaulted in a parking lot next to the XFinity Live entertainment complex and Citizens Bank Park has been met with denials of liability from the locations' management entities.
Jessica Lynne Ellison of Maple Shade, N.J. filed suit in the Philadelphia County Court of Common Pleas on Sept. 10 versus XFinity Live Philadelphia, Greenlee Security Services, Citizens Bank Park and other corporate entities.
Ellison says she went to XFinity Live with her parents on Jan. 21 of this year to watch the NFC Championship game between the Philadelphia Eagles and the Minnesota Vikings. While on the premises, Ellison adds she was overserved alcohol by the venue staff, became separated from her parents and was ejected from the area without explanation or justification, having been told not to return.
"As plaintiff began to make her way through the public parking lot, she was followed by at least two men. Shortly thereafter, the two men attacked plaintiff and sexually assaulted her within the parking lot adjacent to both XFinity Live and Citizens Bank Park, at or near the intersection of 11th Street and Pattison Avenue in Philadelphia," the lawsuit says.
"On Jan, 21, 2018, there were no security guards in the vicinity of plaintiff's attack. The attack on plaintiff went unnoticed for an unreasonable length of time. At no time were any security personnel present patrolling the parking lot in sufficient proximity to the area where plaintiff was assaulted. At no time did security personnel attempt to prevent the assault, intervene in the assault, or render assistance to plaintiff following the assault. A Philadelphia ambulance and the Philadelphia Police Department responded to the scene. Plaintiff was transported by ambulance to the hospital for emergency medical treatment."
Ellison says the assault was completely foreseeable and levied charges of negligence against both XFinity Live and Citizens Bank Park for creating the circumstances allowing the assault to happen and failing to stop it from taking place.
"As a direct and proximate result of defendants' negligence, carelessness, and recklessness, plaintiff was caused to sustain serious and permanent injuries, all of which are post-traumatic, including, but not limited to: vaginal pain/injury, anxiety, depression, emotional distress, post-traumatic stress disorder, sleeping disorder, eating disorder and weight gain," plus "pain, suffering, embarrassment and humiliation," the suit states.
In a response filed by the Citizens Bank Park defendants, they denied Ellison's claims in their entirety and countered they were barred by statutes of limitations, wrought with improper claims of negligence, may have been contributed to by the plaintiff's own negligence and that the complaint failed to state a claim upon which relief could be granted.
"Plaintiff's complaint was filed in bad faith for the purposes of harassment, without probable cause of success, thereby entitling answering defendant to costs, counsel fees and related expenses pertaining to the defense of this lawsuit…defendants owed no duty to the plaintiff. All liability causation and damages are denied. There was no condition present of which plaintiff was not contemporaneously aware," the response's new matter states, in part.
The Citizens Bank Park defendants further leveraged a cross-claim against co-defendant Greenlee Security Services, LLC, alleging it alone was solely liable for Ellison's assault and subsequent injuries.
For counts of negligence, carelessness, recklessness and breach of contract against the defendants, the plaintiff is seeking damages, individually, jointly and severally, in excess of $50,000, plus interest and costs.
The plaintiff is represented by Valerie K. Williams of Keller Lisgar & Williams, in Havertown.
The defendants are represented by Daniel S. Altschuler and Marcus A. Washington of Post & Schell and Thomas M. Savon of Naulty Scaricamazza & McDevitt, all in Philadelphia, plus Susan J. Wiener in Horsham.
Philadelphia County Court of Common Pleas case 180900725
From the Pennsylvania Record: Reach Courts Reporter Nicholas Malfitano at nick.malfitano@therecordinc.com