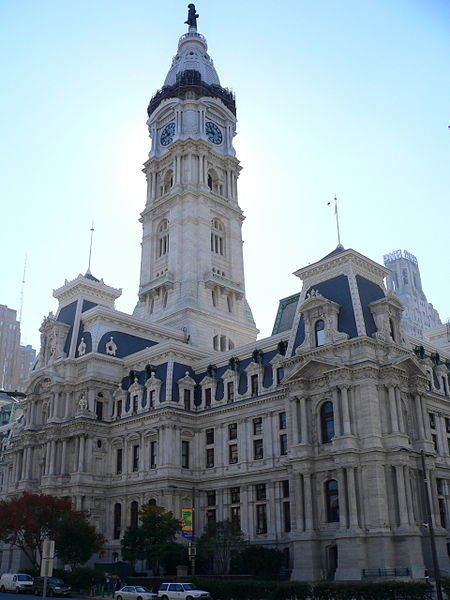 Philadelphia City Hall
PHILADELPHIA – A parking area slip-and-fall lawsuit's eventual trial date has now been moved to October, according to Philadelphia County Court of Common Pleas records.
Judge Lisa M. Rau ruled Thursday that the pre-trial deadlines in Willow Grove resident Denise Halbe's suit against Park America, Inc. of Bala Cynwyd had been extended for 60 days. This led to a new discovery deadline date of May 2 and a new trial date of Oct. 2 of this year.
Frank Breitman filed a motion for extraordinary relief on Feb. 3, seeking the extension of these deadlines, as a prior consolidation with two other cases Halbe brought left a comparatively small amount of time to conduct discovery.
On Dec. 17, 2013, Halbe says she was walking within the parking garage at 12 South 23rd Street in Philadelphia (owned by defendant Park America, Inc.), when she encountered a dangerous condition. Halbe's suit said this condition consisted of "a badly-structured curb in a poorly-lit area without a railing, from the 2nd floor of the paved parking area" on the premises, and caused Halbe to fall.
In the process, Halbe exited a stairwell and opened a door on the garage's second floor landing, tripped over the curb and fell to the ground, she says. Halbe alleged the defendants were negligent in permitting the dangerous condition which caused the accident.
Halbe allegedly sustained open reduction-internal fixation (ORIF) of a displaced right olecranon fracture and other injuries.
The plaintiff is seeking damages in excess of $50,000, plus interest, costs, attorney's fees and other relief in this case.
The plaintiff is represented by Frank Breitman and Robert S. Nix of Silvers Langsam & Weitzman, in Philadelphia.
The defendant is represented by Gary S. Williams, of Styliades Mezzanotte & Hasson, also in Philadelphia.
Philadelphia County Court of Common Pleas case 140601324
From the Pennsylvania Record: Reach Courts Reporter Nicholas Malfitano at nickpennrecord@gmail.com