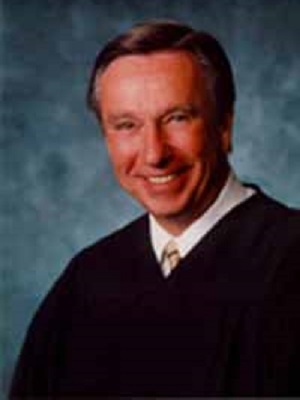 U.S. District Court Judge Timothy J. Savage
PHILADELPHIA – Because there are issues of genuine fact in a negligence case against Nordstrom following a woman's fall during a fitting, the U.S. District Court for the Eastern District of Pennsylvania denied the store's motion for summary judgment on Nov. 21.
Jennifer Dorfmeister sued Nordstrom over allegations of negligence after she fell from a platform during a pants fitting. She alleges the seamstress who did the fitting, Tahereh Ghaffari, didn't let her know that she could have tripped because of an unpinned pant leg and didn't help her get off of the platform on which she was standing. The court denied Nordstrom's motion for summary judgment.
"There are genuine issues of fact as to whether the danger was known or obvious to Dorfmeister, and whether Nordstrom should have reasonably anticipated the danger," Judge Timothy J. Savage wrote.
While there's no argument of whether a business owner has a responsibility to protect its patrons from a foreseeable danger, Savage disagreed with Nordstrom's argument that it didn't owe Dorfmeister the duty in this case because the dangers of stepping down from a platform are clear.
Dorfmeister, however, alleged that a reasonable person would not have known that there was a danger because she was following the instructions from the seamstress, who told her to step back while she was on the platform.
Nordstrom was the party that had to prove that Dorfmeister was conscious of the risk, which Savage determined it failed to do.
"Nordstrom has introduced no evidence showing that she perceived the combination of the high-heels, the unpinned pant leg, and the fitting platform to pose a risk of injury," Savage wrote. "It is for a jury to conclude whether Dorfmeister perceived and appreciated the danger such that it was 'known' to her."
The question of if the Nordstrom workers should have foreseen the danger is still unanswered as well. The workers said in their deposition that they didn't think the unpinned leg served as a hazard, but Savage pointed out that a jury could determine that Nordstrom could have easily foreseen the risk.
The incident took place on Jan. 25, 2017, when Dorfmeister tried on a pair of pants that needed hemming. She alleges she left and came back later that night so the pants could be sewed. Dorfmeister alleges stood on the platform and Ghaffari pinned the leg, asking her if that was a good length.
The ruling states Dorfmeister said she couldn't see, and Ghaffari instructed her to step back. At that point, the right leg of the pants was pinned and the left leg was not. Dorfmeister turned around, and her back was to the mirror. As she stepped down, her left heel caught the fabric of the unpinned leg, causing her to fall and fracture her left ankle.