David Greenstein sued UPS for "ruining his rare Star Trek posters," Slim Fast for "putting diet bars in packages he thought were misleadingly big," a tile supply store for "saying it had a certain tile in stock when it didn't," and a dog-training service that "failed to train his German shepherd and his poodle."
But that's not the half of it.
"He sued his ex-wife. He got his current wife to sue her hairdresser for cutting her tresses too short before the wedding. He sued the wedding photographer, four times. And when the businessmen he sued grumbled about him, he sued them again for slander.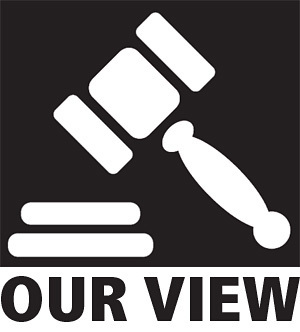 "A disbarred attorney and author of the book Sue and Grow Rich, Greenstein, 57, of Woodland Hills, has filed more than 100 lawsuits."
This according to a profile of Greenstein published in the Los Angeles Times – more than 20 years ago.
Now pushing 80, Greenstein is still at it, and the tally of alleged torts that he's tried to retaliate against is well over 200. If there are courts in the afterlife, he may litigate for all eternity. You can bet he'll file suits from the Great Beyond against the funeral home that ensconced his corpse in an inadequately plush coffin, against the minister who delivered an insufficiently laudatory eulogy, the headstone maker who misspelled his name, and the cemetery that failed to prevent crabgrass from desecrating his final resting place.
Greenstein is currently suing Pennsylvania-based Hershey for the psychological trauma he suffered after purchasing a pack of Jolly Ranchers that was less full than he thought it should be, a phenomenon known in the trade as "slack fill." In short, when he opened the Jolly Ranchers, he was not a happy camper.
Hershey's attorneys note that Greenstein has a "history of initiating litigation of all types," having filed in the last six months "at least 13 slack-fill cases in California courts."
What's really slack-filled is David Greenstein himself.